One of the floating islands of Crystalia connected with Iridia. Amicia's residents' gemstone colour is green and their symbol is a green flower.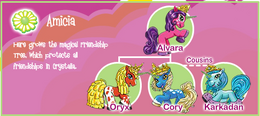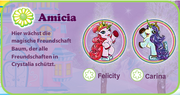 "Amicia is the island of friendship."
"Here grows the magical friendship tree, which protects all friendships in Crystalia."
Description from the flyers:
Slightly different text of one russian flyer of the toy line is telling about the tree protecting the residents of this island, instead of protecting their friendships.