Amira
Species
Royale
Gender
Female
Home
Royal Spa
First appearance
Filly Royale toy line
Title
Princess

Принцесса

Принцеса

Księżniczka

Princezna

Printsess

Princese

Princesė

Other names
Амiра

Амира

Relatives

Sibling/s
Amin
Amira is one of the characters who was updated from the Filly Princess toy line with the Filly Royale toy line.
Princess Amira works as a make-up artist at the Beauty Bar. She loves to experiement with different make-up. Nobody knows in Royalia, but she has a small "laboratory" at the back of the beauty bar, where she mixes her secret indredients [sic] to create the most colorful make-up! Her beauty accessories are famous in Royalia!
Princess Amira
Species
Princess
Gender
Female
Home
Castle of Belisama
First appearance
Filly Princess toy line
Title
Princess
Hercegnö
Księżniczka
Princesa
Princesse
Princezna
Prinsessa
Prinsesse
Prinzessin
Принцесса
Other names
Scherezade
Амира

Relatives

Parent/s
Snow Queen
Sulta Admin
Sibling/s
Duke Linard
Prince Valentin
Grandparents
Emperor Karus
Empress Diva
Other relatives
Cedric (cousin)
Countess Magica (niece)
Countess Melody (niece)
Lady Lori (niece)
Princess Amira is really fond of fairytales and stories, and is said to tell some really great stories. It is not known how many stories she knows, but has herself claimed to know 1,001 of them.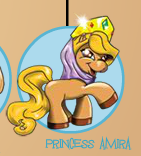 Community content is available under
CC-BY-SA
unless otherwise noted.