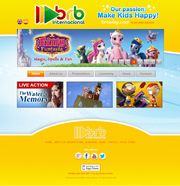 BRB Internacional is a television distributor company based in Madrid, Spain, most famous for listing David the Gnome and Bernard among its productions. As the fellows that run the YouTube channel that uploaded few of the early Filly Funtasia trailers on YouTube, and who originally took care of promoting the show among its many other programs, they were the most common company that was praised or blamed for new features in the Filly Funtasia trailers.
They run a website in English and Spanish, with news, lists of productions and licenses, and a BRBPlay video service with both free and paid programs.
They had an animation company based in Barcelona called Screen 21[1], who are listed alongside them in the early trailers' company logos.
News section
Primarily notes when their shows are to be shown at television market expos, or has acquired channel distribution deals in a country or four. Averages about one news article a month, but it can go considerably longer between them.
Productions Filly Funtasia article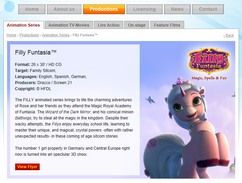 Filly Funtasia™
Format: 26 x 30' / HD CG
Target: Family Sitcom,
Languages: English, Spanish, German,
Producers: Dracco / Screen 21
Copyright: © HFDL
The FILLY animated series brings to life the charming adventures of Rose and her friends as they attend the Magic Royal Academy of Funtasia. The Wizard of the Dark Mirror, and his comical minion Battiwigs, try to steal all the magic in the kingdom. Despite their wacky attempts, the Fillys enjoy everyday school life, learning to master their unique, and magical, crystal powers -often with rather unexpected results- in these coming of age sitcom stories
The number 1 girl property in Germany and Central Europe right now is turned into an spectular [sic] 3D show.
A two-page flyer for the show is also linked to here.
Additionally, the Spanish version has an extra paragraph with an unchecked translation:
"Potions, magic crystals, special mirrors, cupcakes, getting tangled... a story of young friendship in a sitcom for young and old."
Licensing Filly Funtasia article
Filly Funtasia
Owner: Dracco,
Target: Girls (5 -12 years old)
Description: Welcome to a universe full of magic, fun and excitement starring the famous Fillys. A world of fantasy with a host of marvelous characters all are set to begin the new course at the Filly Magic Academy, where they'll discover that friendship is the most powerful force that exists.
Highlights:
A consolidated brand: successful line of Filly toys, with more than 50 million collectibles sold.
Number One Property for girls on toy market in Germany (NPD) ratings)
New television series: premier 2014
Children's magazine launched in 13 European countries.
Values: A world of fantasy, adventure and fun based on the adorable Fillys. Innovative design, with elements from Swarovski incluyed. [sic]
References and links
↑ (In Spanish) "Actualmente, BRB produce exitosas series creadoras de marca a través de su estudio Screen 21 (Talking Tom and Friends, Invizimals, Filly Funtasia, Mica, Bernard,…)" Segovia Aldia (dead link)