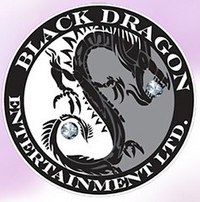 Black Dragon Entertainment Ltd. is an animation company based in China, either in mainland China or in Hong Kong, and first began to take on animation jobs in 2013.
Known history
Edit
The company was co-founded by Marvel comic drawer Walter A. McDaniel, and Chinese businessman Kevin Cheng, who met through a shared friend who worked in Hollywood. McDaniel had had drawing jobs in the 90's on several of Marvel's top franchises, including Captain America, Deadpool, and a short run on Spider-Man. After jumping ship to the toy industry, he allegedly helped rejuvenate the Transformers franchise, and while it isn't specified any further, the formatting of the info sources implies he was involved in Beast Wars. Kevin Cheng has had business experience of some sort from the Wall Street. The company is registered in Hong Kong, but mainland Chinese sources strongly claims that it's based in mainland China.
2014 was a year where the company tried to figure out exactly what it was going to do, and landed on taking on animation jobs for other companies, and making animations on a few self-made franchises such as Space Racer, the latter category apparently having China as its main focus but with a strong hope of reaching international venues as well. The founder duo were interested in kickstarting the Chinese animation industry, and were captivated by China's culture and history.
In Filly material
Edit
Their logo has received great prominence in the trailers' row of company logos, usually to the far-right and placed next to Dracco.
An interview with CCTV showed that they were still doing sketching and unfinished animating for a number of scenes in Filly Funtasia when the interview aired in January 2015.
Community content is available under
CC-BY-SA
unless otherwise noted.