Cedric is a male Filly, who while being regal and royal, doesn't like acting like it all the time. In Filly Funtasia, he is among one of the five main characters in tv series.
His appearances in the Filly Funtasia trailers are limited to standing in crowds and showing various facial expressions, and he has no known speaking lines as of March 2016.
Cedric is one of the characters who was updated for the Royale toy line, originally being related to different characters.
Prince Cedric is a very intelligent prince. When he is not busy studying and inventing something new, he joins tournaments. Even though his parents keep reminding him that he is a prince and that he should act like a prince, he often sneaks out and practice sword-fighting on the castle grounds.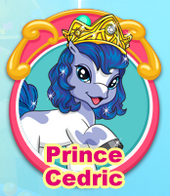 Cedric
Species
Princess
Gender
Male
Home
Castle of Sirona
First appearance
Filly Princess main line
Title
Prince
Herceg
Książę
Princ
Príncipe
Prins
Prinz
Принц
Other names
Седрик

Relatives

Parent/s
King Ekaros
Queen Leonarda
Sibling/s
Princess Jade
Princess Pretty
Grandparents
Emperor Karus
Empress Diva
Other relatives
Baroness Flower (cousin)
Duke Linard (cousin)
Princess Amira (cousin)
Prince Valentin (cousin)
Sir Kuno (cousin)
Snow Queen (aunt)
Sulta Admin (uncle)
Royale update
Edit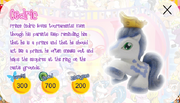 The Royale toy line kept Cedric's rebellious interest in sword fighting and added an interest in inventing. They have also created a Cedric toy that better matches his Filly Funtasia version
Sammelband descriptionEdit
Incomplete translation:
Description:
Name: Cedric
Eye color: Blue
Coat color: White-blue spots
Occupation: Prince
Lives at: The Castle of Siren Rock (titulated Castle of Sirona on English toy sites)
Unusual trait: He is in possession of a magic sword, which can become invisible.
Favorite motto: "A great fighter would I be, if I train every day to see."
Favorite place: The castle mine
His greatest dream: Cedric would love to one day participate in a big tournament, and therefore he trains at sword fighting every day at home.
He enjoys to do this: In the evening, before he goes to bed, Cedric polishes his magic sword, which he hides under his bed.