Christmas Angel
The German release of Weihnachtsengel. Source picture by Faina Chachina, zoom-in edit by My Little Life on Mars.
Species
Angel
Gender
Male
Home
Unknown
First appearance
• Filly Fairy Advent Calendar 2010 (White and red release)
• Filly general Advent Calendar 2012 (International beige and purple release)
Other names
Weihnachtsengel

Relatives
Christmas Angel is a male Angel Filly affiliated with the Filly Fairy brand. He visits the Magical Land every Christmas, and with a touch of his wings, he can give the Fairy Fillies their wing glows for another year to come. His German-only equivalent Weihnachtsengel contributes his abilities to a magical Swarovski crystal, as do many other Fillys throughout the ages.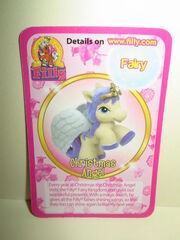 His German release has been known to have very similar colouration to Rafael, with the only exception being Rafael's golden wings, making it possible to assume that Rafael is a small-sized re-release of Weihnachtsengel. The two have similar background stories, but Rafael comes down to the Fairy Fillies for the Star Snatching Night, and his ability to light up their wings in the colors of the rainbow is assumed to be short-term.
Community content is available under
CC-BY-SA
unless otherwise noted.