Duke Linard
Species
Princess
Gender
Male
Home
Castle of Taliesin
First appearance
Filly Princess toy line
Title
Duke
Duc
Duque
Grev
Herceg
Hertig
Hertug
Herzog
Książę
Vévoda
Герцог
Other names
Philip
Линард

Relatives

Spouse
Duchess Romantica
Children
Lady Lori
Countess Magica
Countess Melody
Parent/s
Sulta Admin
Snow Queen
Sibling/s
Prince Valentin
Princess Amira
Grandparents
Emperor Karus
Empress Diva
Other relatives
Cedric (cousin)
King Ekaros (uncle)
Princess Jade (cousin)
Princess Pretty (cousin)
Queen Leonarda (aunt)
Duke Linard is a male Princess Filly, who have been on several travels across the sea to Britain, and in one of them, he met his great love Duchess Romantica, whom he quickly convinced to follow him back home to the Filly Kingdom. To this day, the relationship is still going strong, and he still have a very soft spot for Britain.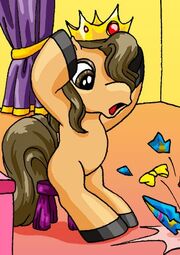 Community content is available under
CC-BY-SA
unless otherwise noted.