We're Getting Mutants in the MCU - The Loop
Play Sound
This toy line features fillys who are dressed like ballerinas (their clothes are exchangeable). All these figurines have a pose of dancing characters. Some characters presented here appeared in the previous toy lines, they are: Sparkle, Rose, Ashia, Loki, Zara, Cory (their designs appear unchanged but all of these Fillys now have additional clothes).
This series doesn't introduce any new kinds of fillys and it isn't one of the main toy lines.

Its number of new characters is the smallest one in history of Filly.
As a new Filly series  toy line at the time, Ballerina was produced by Goliath.

It is also known as Филли Балерина in Russia, being identical to the original title.
Official description of the line
The Filly Unicorns live in the magical floating world of Crystalia.
One day, Princess Sparkle and her best friends go on adventure and they discover a Hidden world with a beautiful Swan Palace. Here, they meet many new Filly Ballerina friends! When they put on their magical tutu or cape, they can dance the most beautiful ballet.
Princess Sparkle loves to dance and with her special, magical tutu she is the prima ballerina. She loves dance parties and plans to make the most beautiful Ballet Show at the Swan Palace. Surrounded by the lake, magical swans gather around to join their performance!
Who could follow Princess Sparkle's footsteps and be the next prima ballerina of Crystalia? You are invited to come and join the magical world of Filly Ballerina!
Differences of the characters
All of the fillys have different kind of gems and their colours inside crowns, dividing them into five groups with three characters being in each group:
Tanzanite, Семейство танзанит (russian), and Tansanit (german);
Ruby and Семейство рубин (russian), and Rubin (german);
Sapphire also known as Семейство сапфир (russian), or Saphir (german);
Topaz or Семейство топаз (russian) and Topas (german);
Emerald  also titled as Семейство изумруд (russian) and Smaragd (german);
Every group has its own colour of the Ballerina shoes.
Male fillys received mantles to wear.
There's one special figurine in the collection, Sparkle. Her crown has all of the five gems in it.
Rose and Zara are the only fillys who changed their symbols in this toy line, a pink heart and a violet butterfly respectively. Reasons for this are not known but it doesn't appear to be a mistake either.
New visual style and the Stars' patterns
The visual style of characters' illustrations is different from that of the previous toy lines. Notably, it's the same style used on Filly Angels illustrations. The horns are drawn in a manner similar to those of characters from Filly Stars. Not only that, but the toys' horns have this pattern as well.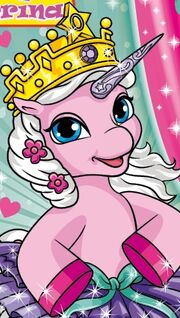 Toy sets
Ballerinas come in ordinary foil bags and in sets with the first option having one filly and the other presenting three selected characters of one group together (with an additional tutu and one ballet ribbon per set) called 3 er set in german, Three pack in english and 3 фигурки in russian language; or one filly packed with the other toys serving as decorations. One of the locations known as Swan palace is the main place of this toy line, it's exclusive to Filly Ballerina and is mentioned in the text of toy line's flyer.
These sets are:
Swan Palace - the other names are being: Schwanenpalast, Palace de cygne, Лебединый замок, Svaneslot, Svanepalass, Zwanenpaleis, Svanpalatset, Joutsenpalatsi;
Dancing Stage - also known as: Tanzühne, Scène de danse, Dansescene, Dansscène,  Dansscen, and Tanssilava;
Sky Wheel - other names are: Roune de cygne, Schwanentanz, Svanehjul, Zwanenrad, Svanhjul, Joutsenpyörä;
Royale ballerinas
It seems that there was going to be a release with Royale characters first but the plans didn't turn into the finished product. Even despite that, some toy selling sites had and still have images of the package for this edition (with these most likely being the promotional pictures).
The number of the characters in Royale collection could be 21 fillys (for the playsets) or 12 fillys (for the foil bags) in total.
The only information that is known about Royale Ballerina figurines and its characters comes from the photos (perhaps thename 'Unicorn edition', along with the patterns characters have, which isn't a usual trait of Unicorn fillys may be a hint to the initial plans of the creators), everything else is not known.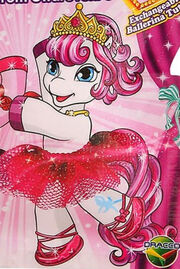 Interesting facts
The playsets and variety of merchandise for this edition would be the same Unicorn edition Filly Ballerina has.
Some illustrations of the characters for this edition are drawn in the previous visual style for Filly while the others are depicted in the almost new style, close to one Angel fillys have but with the black outlines.
Funtasia Daily wrote an article with the news about Ballerina toy line's release when it was having its Royale edition first; while Top media.de is the first site to be a source for the images and photos of Royale Ballerina.
(An article on the new toy line)