Filly Beach Party
was the first
Filly
toy line to include fantasy horses, and though many horses were still based on real horse species, even their personalities were less tied up to their source horse. Among the fantasy horses are two winged horses (
Cheerful
and
Zofus
) and a winged unicorn (
Mani
). Notably, these fantasy horses had bird-like wings, a feature shared with the much more recent
Star Fillies
and
Angel Fillies
in the modern days.
It introduced Filly Princess (character), the first Filly to be in all-gold, later expanded on through golden Filly releases, and the first to use a crown. Both of the traits, especially the latter, have been oft-repeated ever since. On the other side, she was not included in a 20-Filly set of smaller-sized Beach Party Fillys.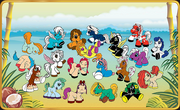 2010 release
This release was the same as the main set, including Filly Princess, but with a different name and 8 additional figures. These
Neon-Fillys
are the character
Filly
, with her hair in various bright colours. The name slots of all eight were in fact filled out with
Special
, and their species slots with
Neon [Pose/Mood] Filly
, and as such, these figures are generally called by these descriptions of their pose/mood (e.g. "Happy").
Community content is available under
CC-BY-SA
unless otherwise noted.