Filly Butterfly

Release date
2014
No. of toys
21 (main set)
47 (total known)
Filly type
Butterfly
Filly Butterfly was announced in January 2014 and was released the following spring. It was pushed by a MyFilly Twitter page that was specifically made for the toy brand release, and has been given new families and smaller sets throughout 2014, much how the Filly Witchy toy line got such things in 2013.
One of the still unreleased Filly Funtasia specials is based on this toy line and its characters.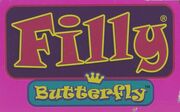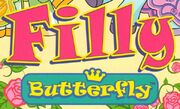 Expansions
The Glitter Edition had one exclusive family but mostly used existing characters.
The Filly Wedding toy line has added Butterfly characters in the Dream Wedding expansion.
Other merchandise
Magazines
2014 Filly advent calendar
In other languages
Russian: Филли-бабочки (an official translation of the distribution - Unitoys);
French: the flyer calls this toy line 'Papillons Filly';
Filly Rainbow Butterfly
Erika (magazine) • Jana (magazine) • Marian (magazine) • Nika (magazine)