'Filly' has three profiles at Deviantart, (a site where users upload drawings and photos) the first of them being an official MyFilly page while the other two are of unknown origins but seem to be official judging by the media they present on the pages for their accounts.
MyFilly account
Short overview
'MyFilly' profile seems to copy some of the content from Facebook, Fanpop and Pinterest pages but the quality of their pictures on this site isn't very good and some images Pinterest profile has gifs of aren't animated, these are static pictures instead (for example, one with Zack and Zodia). This page has the same avatar picture the 'Facebook' and 'Pinterest' profiles use. Its description tells us about the 'Filly' world and its characters and has a link to the main 'Filly' site.
As of now It has 110 pictures, 3.729 pageviews in total. The list of its watchers is short, the count is close to number of ten. Judging by the page's info It was created on 23.12.15, thus being slightly newer than the Facebook profile and YouTube channel of the same name.
The categories this profile chose are 'digital art' and 'professional artist'. It has no core membership .
Activity
Their last visit was in July 2016, 187 weeks ago as of March 22, 2020. The only activity this profile has is the pictures, 'MyFilly' didn't add any journals, favorites, scraps or prints, and the people who used to ran the page didn't reply to any comments.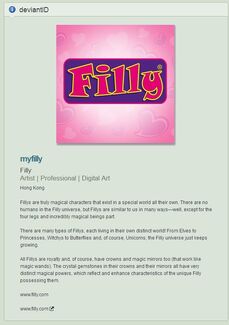 Media of MyFilly page
Some coloring sheets are exclusive to this account, this being four pages with Stars' characters, three sheets with Mermaids, one with fillys of Wedding, and one with Butterfly fillys.
It also features screenshots of game Filly Witchy Adventure and a picture borrowed from the video the 'MyFilly' YouTube channel used to advertise this application.
'MyFilly' of Deviantart tends to use the same words for descriptions and names of the pictures it has thus repeating the tendency of other official 'Filly' pages, naming files 'pony', crediting Dracco and telling about the titles and names of 'Filly' games, toys, playsets, characters and places of 'Filly' world.
Some images are seen on this page only, and one of these is an image of Zodia and Cassiopeia from a commercial for 'Stars' series (the video can be found on 'MyFilly' YouTube channel)
Types of images the account lists
Funny images (characters depicted among the various food products or holding different objects and items of real world), puzzles and riddles (one of these being a labyrinth Zack should complete with the help of somebody who received the image), photos of toys and merchandise, announcements of contests and the others.
(the amount of images is listed in the brackets) -
Links of the profile
The descriptions of pictures left links to 'MyFilly' Facebook page, an official 'Filly' website and its subpages.
Littlepony animation page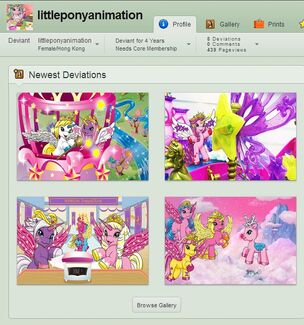 It's the second profile related to 'Filly'. The avatar picture it uses is an image of Hermia, a character from 'Stars' toy line which suggests it's an old account. The page's info says it was created on 16.03.16.
There's no big profile image at the center of this page as only an ordinary icon was chosen for the user's image.
Media of this account is as little as number of eight pictures, all of these are centered around characters of 'Stars' series (except for Ruby the reindeer) and one toy of its playsets.
The name of this page gives us a clue for which type of files it has in its uploads, it's the 'gif' images which compensates lack of animated pictures an official 'MyFilly' presents on Deviantart.
It's unknown whether or not it's an official page but the date of its creation, the content that's seen on it, as well as the names of each file (a combination of words 'My filly world' can be seen on the page) could be an answer. At its minimum, all the images should be taken from the official sources.
Littlepony animation is repeating the same tendency 'MyFilly' Deviant profile is known for: it has no journals, scraps, favorites, prints, or replies added. The only activity coming from the authors of this page is the pictures of fillys and Ruby. Notably, the descriptions for all these images are talking about characteristics of 'Filly' brand ('Fillys are truly magical characters that exist in a special world all their own'). The tags 'Littlepony animation' uses are technically the same and can be seen on 'MyFilly' of Deviantart.
My pony friends page
Another profile centered around 'Filly' franchise.
The only uploads seen on the page are sixteen wallpapers with characters of various toy lines. Some of these images can be found on 'Facebook' profile of 'MyFilly' as well.
The account has a logotype of 'Filly' for its icon and profile picture, but there's no additions of the other toy lines made for this logo.

It lists Germany as a country of origin, has even less watchers than 'MyFilly' page, but the number of pageviews is at 1,415.
Mypony friends has no comments, replies, journals, favorites and prints. It's an ordinary account without premium or core membership. It follows in steps of the other 'MyFilly' profiles except for being known as an official page. Descriptions and tags of images made by the page look exactly like the ones the rest of accounts for 'Filly' wrote.
Toy lines presented in the content of this page are
'Filly Princess' has four wallpapers in total. It's the same number 'Filly Unicorn' has got with the latter being the toy line with four pictures because 'Ice Unicorn' is an expansion of the series and two characters of 'Wedding' who are unicorns are seen on two images at once, however the illustration is a repeating one.
'Filly Wedding - with three pictures, Filly Butterfly toy line - is repeating this,
Fairy - (2),
'Filly Elves - the series presented within an only image, the same is true for Mermaids and Ice Unicorn;