Filly Funtasia (also known as ' is an animated comedy (the official sources named the show's genre being 'a sitcom')  series, based on the long-lasting Filly brand. The plot follows Rose, Bella, Lynn, Cedric, and Will's experiences and adventures while attending the Royal Magic Academy.
Episodes
Edit
For a list of airdates, see Episodes.
Characters
Edit
For character descriptions, see Filly Funtasia characters.
Broadcasts
Edit
Country
Channel
Premiere date
Italy
Frisbee
March 11, 2019
Ukraine
PlusPlus
November 30, 2019
China (Mandarin)
iQiyi
Hunan TV
November 28, 2019
January 20, 2020
Advertisements
Edit
Name
Release date
Reached public through
Language
First trailer
October 15, 2013
YouTube[2]
English
Second trailer
November, 2013
WorldScreen
English
Third trailer
April 11, 2014 (original reel)
Twitter
English
Fourth trailer
October 13, 2014
Funtasia Daily
English
Magical World
October 6, 2015
MyFilly YouTube channel
English
Wishes You Happy Holidays
December 10, 2015
MyFilly YouTube channel
English
Sixth trailer
March 8, 2018
Vimeo
English
Italian TV Spot
March, 2019
Frisbee
Italian
September 12, 2019
Vimeo

English

Ukrainian trailers
November 30, 2019
January 3, 2020
PlusPlus' Facebook
Ukrainian
Chinese trailers
November 25, 2019
Official 'Filly Funtasia' Weibo page
Chinese
Series information
Edit
Although Filly Funtasia was made in English, its creation was helped by various groups around the world, including the company BRB Internacional (Spain) and the animation studio Black Dragon Entertainment (Beijing). Despite Filly's massive popularity in German-speaking countries, no German parties are currently known to be involved in the production.
The show was originally announced to be released in 2014, but suffered years of (largely unexplained) delays before finally being released in early 2019.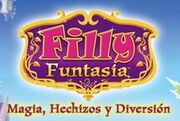 The show had its own dedicated site created in 2013. However, it was taken down early 2019. All the information available on it before its removal was taken from a pitch bible for the show.
Alternate titles
Edit
Ukraine: 'Філлі Фантазія: Академія чарів' ('Filly Fantasy: The Academy of magic').
China: '小马菲莉之缤纷仙境' and a shorter name, '小马菲莉' (with its meaning being close to 'Little filly: colorful wonderland' or alternatively, 'Little filly').
The series' ukrainian description
Edit
From the site:
Edit
The official section of PlusPlus' site has a description for the whole show. Here is a translation of some parts of its text:
'In the center of this story there is a little Filly who is telling her friend Rose a story about the magical Academy in the fairytale kingdom. While they are busy at the magical school learning about their crystals' (this text uses the adjective 'crystal like' so the meaning of this part is unclear) magic, a trouble came. Wranglum who is a wizard of the Dark Crystal, has an intention to take all the magic of the kingdom. Cedric, Isabella, Lynn and Willow are the loyal friends who are coming to help. Will they be able to defend the world and themselves?'
The year: 2019
Genre: cartoon
Country of origin: Hong Kong, Spain, Denmark [4]
From 'PlusPlus' page on Facebook:
Edit
Description for the first video, 30.11.19:
'The little unicorn horse named Rose is attending Royal Academy of Fantasy's kingdom together with her friends, to learn how to control the crystal magic (?). Wranglum, the wizard of Dark Mirror who is dreaming to steal all the magic of the magical world, will become the main villain.' [5]
The description from 'ETS licensing' site
Edit
English version: 'Filly Funtasia tells the adventures of Rose and her friends at the Funtasia magic academy. The Fillys go to school and study crystalline powers, while Wranglum, the Wizard of the Dark Mirror, along with his servants Battiwigs, try to steal all the magic in the kingdom'.
Italian version: 'Filly Funtasia racconta le avventure di Rose e dei suoi amici all'accademia di magia di Funtasia. I Fillys vanno a scuola e studiano i poteri dei cristalli, mentre Wranglum, il Mago dello Specchio Oscuro, insieme ai suoi servi Battiwigs, cercano di rubare tutta la magia nel regno'.
This description mentions two formats of 'Filly Funtasia' - 26 episodes of 22 minutes and 52 episodes of 11 minutes. It's saying the show is made for children of 5-10 years old, and of a most focus on girls. As the site and company are of an italian origin, the text is telling about 'Filly Funtasia' being broadcasted on Frisbee channel.
Gallery of the promotional pictures
Edit
Community content is available under
CC-BY-SA
unless otherwise noted.