Filly Unicorn
is a toy line featuring
Unicorn Fillies
and the location of
Crystalia
. It was released in late February 2011, with a main release of 21 Fillys.
This toy line is also known as Филли Единороги (a literal translation of the word 'unicorn', the only difference is the plural form) or Филли-единороги in the russian version (of the text for toys' package and the magazine's volumes).
Story
High up in the sky you will find a floating world called Crystalia. Here, the Filly Unicorns live happily together.
Crystalia consists of six magnificent crystal-shaped islands connected by wonderful glittering rainbows, which can only be seen when the sun appears on the satin-like sky and shines through the crystal islands.
These rainbows are bridges for the Fillys to go around Crystalia, but as soon as the sun goes down, they disappear again.
The islands of Crystalia each have their own unique rainbow colour and magic: light pink for romance, dark pink for beauty, yellow for party, green for friendship and blue for dreams.
Each island is the home of a Filly family with same colour horn and magical crystal, which gives them the ability to enter the mysterious crystals, on which their home is built.
Princess Sparkle lives in the majestic tower on the centre island, Iridia. Her magical crown has crystals in all the colours of the rainbow.
Crystalia is a place of harmony and peace, and this is celebrated every month, when Princess Sparkle hosts a big glorious party at the top of her tower. Here all the Fillys come and dance until the sun is about to go down.
The adventure awaits you, travel to Crystalia and visit Filly Unicorns!               

Expansions
Filly Ice Unicorn
Release date
2012
No. of toys
13
Filly type
Unicorn
Filly Ice Unicorn: Set starring skating Unicorn Fillies. Introduced 9 new characters.
The Filly Wedding toy line has added other Unicorn characters.
Other merchandise
Dream House play set (included 1 exclusive Filly)
Tin box (2 exclusive Fillies added)
A card game centered around Filly Unicorn.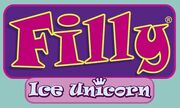 Re-release
Filly Unicorn was released again, this time by Goliath. The newest release (2018)  is notable for its different traits of the visual style of characters. There are 21 figurines in the collection, just like in the original one.
Fillys come in foil bags, play sets with decorations (reissued 'Dream house' set), three characters in one pack (a blister), one character with various toys  ('Filly Unicorn Garden Set' with Rose, a table and the flowers; the other characters are: Gaia, Bianca, Squeak, Luna),  one advent calendar, and plastic spheres with surprises (called 'Super Size Surprise' and '10 in 1 Unbox fun', a variation introduced with 'Filly Angels' toys). One of the other type of merchandise is a pack of three toys, the only known of those includes Rose, Squeak and Iris. Its illustrations are the pictures of Rose, Ashia and Bianca.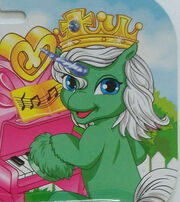 Each and every unicorn filly features an ordinary horn, it shows this re-release is staying faithful to the details of the original toy line, unlike the other depictions of unicorns  ('Ballerina' toy line, its illustrations and the drawings of
'Filly Magazine'
).
The re-release includes an image of 'Original Filly' seal of quality.
The play set which only features Rose has an alternative name - 'Romance'. It's possible this name was a placeholder until the package was made and released.

Community content is available under
CC-BY-SA
unless otherwise noted.