We're Getting Mutants in the MCU - The Loop
Play Sound
Filly Witchy

Release date
Early 2013
No. of toys
22 (First set)
50 (Total known)
Filly type
Witchy
Other merchandise
Board game
Preceded by
Filly Mermaids
Followed by
Filly Wedding
Filly Witchy introduced Witchy Fillies.
Its Russian name is Филли-ведьмочки (can be translated to English as 'The little filly witches').
Known as Filly Czarodziejka in Poland (Filly Magazine).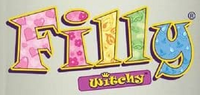 Other editions
Filly Witchy Black Edition

Release date
Autumn 2013
No. of toys
27
Filly type
Witchy
Filly Ice Witchy

Release date
2013
No. of toys
4
Filly type
Witchy
Other merchandise
Advent Calendar (+3 Fillies)
Filly Ice Witchy Edition: Introduced skating Witchy Fillies.

Filly Witchy Ice Advent Calendar 2013: Added 3 new skating Witchy Fillies.
Other merchandise
Play sets:

Filly Witchy Bewitched Magic House - Included an exclusive Filly;
Filly Witchy Enchanted Windmill - Included an exclusive Filly;

Filly Witchy: Hexentanz in Zimsala - A board game (includes baby witchys);
Filly Witchy Adventures - a mobile phone game;
Filly Witchy Trading Cards (Sammelkarten);
Ordinary plush and keychain plus toys;
Filly Witchy sticker album and stickers;
Various board games, e.g. 'Memo' and puzzles;
Filly Witchy Beauty Queen Abra and Cadabra;
Bedding sets, clothes, mugs, embroidered applications;
Filly Witchy Zauber der 13. Stunde - a second board game (Abra and Cadabra are wearing clothes of the other colors), goes with baby witchy fillys;
Various books;
Separate toy lines that added to key Filly type
Changes from the final version
The first visual style of Witchy illustrations was an older style which is seen on artworks of Elves and Ice Elves.
Some of the fillys have alternative colors or designs, including Abra, Cadabra, Baltazar, Sabrina and possibly Aqua with Emeralda.
The only sources for this information are work in progress images that can be found on internet and the illustration of Filly seen on cards of the first edition of this toy line.