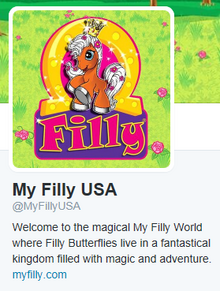 The Filly communities on Twitter are a very loosely assorted set of singular profiles and small chat groups that take place on Twitter. Only a cursory system is known to connect these, although none of them are completely separated from one another.
Known groups
The FillyRT retweeting bot was taking care of retweeting direct mentions of Filly Funtasia, and was doing so since October 2013.
Funtasia Daily maintain Twitter accounts with decent posting rates, while BRB Internacional was doing so in the past until they quit their work with 'Filly Funtasia'.

Most of Funtasia Daily's Twitter posts are automated posts about new Funtasia Daily articles, but it also happens that non-automated posts about fun facts, or participations in the Twitter congolomerate (see below)'s chats happen.
The vast majority of BRB Internacional's Twitter posts had nothing to do with Filly Funtasia, instead often posting about old productions from the 1980's through mid-2000's. Filly scoops happened at times; the April 2014 trailer was first released through their Twitter account.
The Twitter conglomerate (name subject to change) was an informal, unspecified group in which a handful of Twits (five or so, as of 8th of April 2015) liked to reply to each others' comments a whole lot. Zejgar and Exohasard were commonly found in it, along with Griffins&unicorns and Bob-Dude, and Skundi might join a chat through his Funtasia Daily Twitter account. While Filly as a whole was gladly discussed by everyone, a number of secondary topics could take place between selected posters. A small assortment of such topics included, but was not limited to:

Lalaloopsy (Exohasard, Zejgar)
Power Rangers (Zejgar, Bob-Dude)
My Little Pony Tales (Bob-Dude, Exohasard, Zejgar)
My Little Pony: Friendship is Magic (Zejgar, Griffins&unicorns, Exohasard)
Warcraft (Zejgar, Skundi)
A few other Twitter accounts that deals with Filly are known, such as that of Tumblr artist Leah Cinnamon.
Community content is available under
CC-BY-SA
unless otherwise noted.