Hypnia, who is a part of the Skylight group, is a clothes maker and tailor, said to tailor the greatest clothes.
For every Filly Star, adorable Hypnia sews a special tailor-made pillow that brings that particular Filly sweet dreams and a peaceful sleep. She loves taking a nap and knows nothing better than when it is time for bed. Then she gathers all her older siblings and tells them a bedtime story.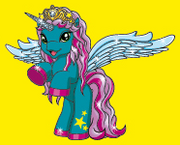 Community content is available under
CC-BY-SA
unless otherwise noted.