Lori
Species
Royale
Gender
Female
Home
Flower Tower
First appearance
Filly Royale toy line
Title
Princess

Принцесса

Принцеса

Księżniczka

Princezna

Printsess

Princese

Princesė

Other names
Лорi

Relatives
Lori is one of the characters who was updated from the Filly Princess toy line with the Filly Royale toy line.
She is Magica's best friend.
Princess Lori is Princess Pretty's styling assitant [sic]. She is usually seen around Royalia having different hair styles too often that it was not difficult to impress Princess Pretty that she could be the best assistant in Royalia [sic]. Priness [sic] Lori is a very cheerful Filly. She brings fun in the hair salon for being silly at times. She can come up with the silliest jokes in Royalia. She always looks forward to the monthly hairstyling competition!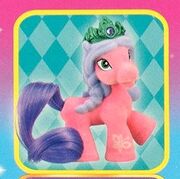 Lady Lori
Species
Princess
Gender
Female
Home
Castle of Taliesin
First appearance
Filly Princess toy line
Title
Lady
Dame
Frøken
Kisasszony
Леди

Dama

Other names
Лори

Relatives

Parent/s
Duchess Romantica
Duke Linard
Sibling/s
Countess Magica
Countess Melody
Grandparents
Sulta Admin
Snow Queen
Great Grandparents
Emperor Karus
Empress Diva
Other relatives
Prince Valentin (uncle)
Princess Amira (aunt)
Lady Lori is a female Princess Filly, the youngest Filly alive out of the Filly Kingdom's 21 (or 22) residents. She spends the majority of her time in her bower[1] where she is studying and reading books. She particularly like fantasy books, as it apparently wasn't enough to already live in a fantasy book world.
She has ambitions of marrying a famous writer one day. That would limit her available selection hugely, unless Alice gets around to finishing her novel-in-works.
Notes
↑ Yes, "bower" is a real English word. Look it up.
Community content is available under
CC-BY-SA
unless otherwise noted.