Melody
Voiced by
•Laudon Andrea
•María Fernanda Febres (1, 3, 4, 7, 8, 9, 13);


•Rosanne Estévez (2, 5, 10), (15);
•Oriana Villacis (17, 18, 20, 23, 24, 25, 26),

First appearance
Filly Princess toy line
Species
Royale
Gender
Female
Title
In Filly Princess
•Countess
•Condesa
•Comtesse
•Gräfin
•Grevinna
•Grevinne
•Hercegnö
•Hraběnka
•Komtesse
•Księżna
•Графиня
•Contessa
In Filly Royale
•Princess
•Принцесса
•Принцеса
•Księżniczka
•Princezna
•Printsess
•Princese
•Princesė
•Princesse
Other names
•Irina
•Мелодi
•Мелоди, Мелодия (Multi-Pulti plus toys)
•Melodie
Home
In Filly Princess
Castle of Taliesin
In Filly Royale
Royal Spa

Relatives

Sibling/s
In Filly Princess
•Countess Magica
•Lady Lori
Parent/s
In Filly Princess
•Duchess Romantica
•Duke Linard
Grandparents
In Filly Princess
•Sulta Admin
•Snow Queen
Great Grandparents
In Filly Princess
•Emperor Karus
•Empress Diva
Other relatives
In Filly Princess
•Prince Valentin (uncle)
Princess Amira (aunt)
Image gallery
Melody is one of the characters who was updated from the Filly Princess toy line with the Filly Royale toy line.
In the series, Melody is a student in the same class as the main cast. She is often seen with "Troy" during lessons.
Princess Melody has the most beautiful singing voice in Royalia. She loves to sing in the morning, waking up the Fillys to a wonderful song. She owns the Beauty Bar, entertaining their customers with her voice. She is hoping to join a singing competition and be a professional singer.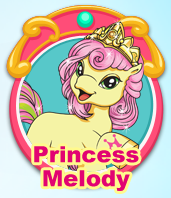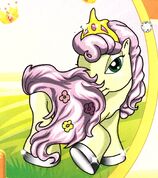 Countess Melody is a female Princess Filly, who was adopted by Duke Linard and Duchess Romantica at a young age. She loves music, and is also honing her singing voice everyday, which is already good enough that listeners from far away consider it to be beautiful.
For a group of pictures uploaded to the Filly Wiki that has Melody in it, see Category:Melody images.
For a list of other characters that are visible in Filly Funtasia material, see Filly Funtasia characters.