MyFilly was the official homepage of the Filly toy brand. Also known as Filly.com, the site also had an additional web address and was along with
Facebook
,
Twitter
,
Fanpop
,
Pinterest
pages branded as MyFilly, alongside a
YouTube
channel. The site was owned by
Dracco
, and was copyrighted by HFDL, who were assumed to work as Dracco's copyright division.
In 2017, the main site began redirecting to its Filly Stars subsite. MyFilly and all its subsites went offline early 2019.
Section links for sub-brands
There were homepages for each individual toy line and their sub-brands. Each section had four pages accessible: Story, Filly Kingdom[1], Filly Tree, and Products.
"Story": The background story for the region.
"Filly Kingdom": A map of the region.
"Filly Tree": Information about the families from the region and their homes.
"Products": Stories for individual characters from the toy line.
Sub-brands and their available languages:
Games
The site had five games, of which four were in the Fun section.
Additionally, there was a Filly pageant where you use the points earned from the other minigames to participate with Fillys you've created on the site. All games required a MyFilly (or an old Filly.com) user account to be allowed to play.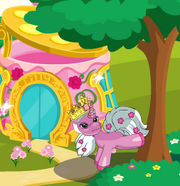 The German version also had a map where four of the Filly sub-brand homelands can be browsed, Unicorn (Crystalia), Princess (Filly Kingdom), Fairy (Magical Land) and Witchy (Zimsala). The four areas had one building or castle that can be looked closer at, except Unicorn, which had two castles. The four games in the Fun section were optionally accessed through this map.
There were a few shops. One of them, Jade's Furniture, was where you bought furniture for your Filly. There were also a decoration shop and a salon shop. The German version had a fourth shop (Tarot's Magic Shop), where magical items were able to be bought.
Connections to Filly Funtasia
One of the links on the rotating front page banner linked to a purple Filly Funtasia poster that mentioned that the show is 26 episodes of 26 minutes each and was scheduled for 2014. The poster had been around since the fall of 2013, when fans were going by a statement that the show's premiere was scheduled for April 2014. The poster had been edited later on to accommodate for the new MyFilly site, but the 2014 estimate remained.
External links
References and notes
↑ Not to be confused for the home of the Princess Fillys.
↑

An English version has been known to exist and has been cited in many Filly Wiki articles.

↑

Only this English version of the Filly Stars subsite is fully available. However, much of its graphics no longer exist.
The main site had a messenger where you were able to send messages to friends around the world.
Every sub-brand page as of 22nd of February 2015 used the Mandingo font for their story sections.
Community content is available under
CC-BY-SA
unless otherwise noted.