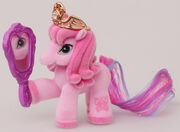 Pretty
Species
Royale
Gender
Female
Home
Royale Flower Tower
First appearance
Filly Royale toy line
Title
Princess

Принцесса

Принцеса

Księżniczka

Princezna

Printsess

Princese

Princesė

Other names
Притти - (package's text)

Претти - (magazine's text)

Милашка (toys by 'Multi-Pulti')

Преттi

Jolie (the 'Crystal' edition)

Relatives
Pretty is one of the characters who was updated from the Filly Princess toy line with the Filly Royale toy line.
She owns the Hair Salon.
One of her russian names means 'The cute one' (plush toys of her are named like this).
Princess Pretty is the owner of the famous hair salon in Royalia. She loves to style her hair and everyone else's hair in Royalia. She finds true happiness in creating pretty hair styles and making everybody look and feel special. She especially loves putting glitter on the hair! She believes that beauty is the best charm!

Information of the magazines
Russian version of 'Filly Magazine' contains a short biography of her:
The group she belongs to is: Tanzanite.
Her talent is: creating marvellous hairstyles using the skills and magic.
The best friend of her is: Princess Rainbow.
Princess Pretty
Species
Princess
Gender
Female
Home
Castle of Sirona
First appearance
Filly Princess toy line
Title
Princess
Hercegnö
Księżniczka
Princesa
Princesse
Princezna
Prinsessa
Prinsesse
Prinzessin
Принцесса
Other names
Jolie
Scarlett
Притти

Relatives

Parent/s
King Ekaros
Queen Leonarda
Sibling/s
Cedric
Princess Jade
Grandparents
Emperor Karus
Empress Diva
Other relatives
Baroness Flower (cousin)
Duke Linard (cousin)
Princess Amira (cousin)
Prince Valentin (cousin)
Sir Kuno (cousin)
Snow Queen (aunt)
Sulta Admin (uncle)
Princess Pretty is Cedric's and Princess Jade's younger sister, and is fond of playing pranks on the two of them. Despite being that young, she has specifically dreams about marrying a prince who is from a "strange and mysterious land" in the very far east.
Community content is available under
CC-BY-SA
unless otherwise noted.