Princess Scarlet
Species
Butterfly
Gender
Female
Home
Papillia
First appearance
Filly Butterfly toy line
Title
Princess
Księżniczka (Family Tree)[1]
Prinses
Prinzessin (Collections bio)[2]
Prinsessan
Prinsesse
Printsess
Princesè
Other names
Skarlet
Скарлет

Relatives
Princess Scarlet is a Special Character of the Butterfly Fillies. She rules Papillia and visits her friends in the Butterfly Ship once a month.
Her ship is staying on the blue lake in the center of Papillia for three days and nights. Scarlet  is always trying to see every friend of her there.

Princess Scarlet is also described as a ruler of 'many other unknown Butterfly kingdoms' by the text of official media.
She has a pet who is Harmony, the ladybug and it is said that Harmony's voice is special as she can sing. On each night, Scarlet and Harmony perform a song and it can be heard from a big distance.
In the story of Filly Butterfly, Scarlet invites other butterfly fillys to a big dance at the ship. It was the first time when they saw a bulding uknown to them.
The lines of the official description of Scarlet:
'Her rainbow wings are the largest butterfly wings you have ever seen, and she is amazingly beautiful'.
In 'Filly Funtasia'
Scarlet was a planned character for one of the two specials of the show. Her design is slightly altered but is still recognizable.
References and notes
↑

Her Collections name list her name simply as "Księżniczka", as if 'Princess' was her entire name.

↑

Her name is titleless in both the Family Tree and Collections sections, and only the Collections bio story describes her as a princess.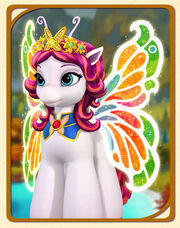 Community content is available under
CC-BY-SA
unless otherwise noted.