Queen Nieva
Species
Unicorn
Gender
Female
Home
Glacia
Iridia
First appearance
Filly Ice Unicorn toy line
Title
Queen ( Family Tree)

Правительница, повелительница

Other names
Нива

Relatives
Queen Nieva is the ruler of Glacia and a resident of Iridia. She performs ice dancing, and when she dances, her horn lights up in a magical purple color.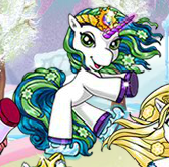 Residents of Glacia
Alex, Amanda (unicorn), Carina, Dash, Felicity, Isis, Miracle (unicorn), Nox, Queen Nieva, Rania, Stella, Tiara, Twizzle
Community content is available under
CC-BY-SA
unless otherwise noted.