Romantica is one of the characters who was updated from the Filly Princess toy line with the Filly Royale toy line.
Princess Romantica is a hopeless romantic. She loves to read the love stories of Princess Heart. She is Heart's no. 1 fan! She is often seen daydreaming beneath the trees of Royalia, wishing for her prince charming to come! She thinks Prince Amin is quite cute!...now if only Prince Amin would notice her....
Duchess Romantica
Species
Princess
Gender
Female
Home
Castle of Taliesin
First appearance
Filly Princess toy line
Title
Duchess
Duchesse
Duquesa
Grevinde
Hercegnö
Hertiginna
Hertuginne
Herzogin
Księżna
Vévodkyně
Герцогиня
Other names
Fergie
Романтика

Relatives

Spouse
Duke Linard
Children
Lady Lori
Countess Magica
Countess Melody (adopted)
Grandparents
Emperor Karus
Empress Diva
Other relatives
Prince Valentin (brother-in-law)
Princess Amira (sister-in-law)
Sulta Admin (father-in-law)
Snow Queen (mother-in-law)
Duchess Romantica is a female Princess Filly. She lived her early life somewhere in the nature of Britain, but fell in love when Duke Linard was on a particular visit to Britain, leading her to join him on his way back to the Filly Kingdom, where they have lived in the Castle of Taliesin ever since. She still makes a visit to her parents back home once a year.
While Filly Forest and Filly Beach Party had a long number of Fillys who grew up in Great Britain, especially if going by Forest's first-release canon, Romantica is the only known Filly in the currently thought-of Filly canon to come from an Earth country.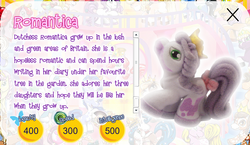 Community content is available under
CC-BY-SA
unless otherwise noted.