We're Getting Mutants in the MCU - The Loop
Play Sound
Romantica
First appearance
Filly Princess toy line
Species
Princess/Royale
Gender
Female
Title
In Filly Princess
•Duchess
•Duchesse
•Duquesa
•Grevinde
•Hercegnö
•Hertiginna
•Hertuginne
•Herzogin
•Księżna
•Vévodkyně
•Герцогиня
•Duchessa

In Filly Royale
•Princess
•Prinzessin
•Принцесса
•Принцеса
•Księżniczka
•Princezna
•Printsess
•Princese
•Princesė
•Princesse

Other names
Fergie
Романтика
Home
In Filly Princess
Castle of Taliesin

In Filly Royale
Dream House

Relatives

Spouse
In Filly Princess
Duke Linard
Children
In Filly Princess
•Lady Lori
•Countess Magica
•Countess Melody (adopted)
Grandparents
In Filly Princess
Emperor Karus
Empress Diva
Other relatives
In Filly Princess
•Prince Valentin (brother-in-law)
•Princess Amira (sister-in-law)
•Sultan Amin (father-in-law)
•Snow Queen (mother-in-law)
Image gallery
Romantica is one of the characters who was updated from the Filly Princess toy line with the Filly Royale toy line.
Princess Romantica is a hopeless romantic. She loves to read the love stories of Princess Heart. She is Heart's no. 1 fan! She is often seen daydreaming beneath the trees of Royalia, wishing for her prince charming to come! She thinks Prince Amin is quite cute!...now if only Prince Amin would notice her...
On the pages of Filly Sammelband...
This text was translated from German automatically
Princess Romantica

Eye colour: Frog green
Coat colour: Blackberry purple
She likes: Raving about her fairy tale prince all day long
Special traits: She can go on dream trips in her magic bed with her eyes wide open
This is friendship: When you keep thinking about each other
(about image of her with a frog) Whoa, what funny thing jumped on Romantica's head? This makes swimming even more fun!
Did you know? Romantica would like to know what her sweetheart will look like. In Sweden, in midsummer night on June 24th, girls put seven flowers under their pillows. They say they dream of the boy they will marry one day.
My tip for little princesses: Spreading a little honey on dry lips helps.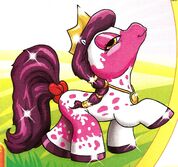 Duchess Romantica is a female Princess Filly. She lived her early life somewhere in the nature of Britain, but fell in love when Duke Linard was on a particular visit to Britain, leading her to join him on his way back to the Filly Kingdom, where they have lived in the Castle of Taliesin ever since. She still makes a visit to her parents back home once a year.

While Filly Forest and Filly Beach Party had a long number of Fillys who grew up in Great Britain, especially if going by Forest's first-release canon, Romantica is the only known Filly in the currently thought-of Filly canon to come from an Earth country.
Sammelband 2012 keeps calling her 'Romántica' (and not only while listing names of residents of Castle of Taliesin, but on her regular page too).
In Filly Sammelband...
This text was translated from German automatically

Romántica
Duchess

Eye colour: Light brown
Coat colour: White with pink spots
Occupation: Duchess
Place of residence: Neuschönstein Castle
Special trait: Once a year she visits her parents in Great Britain
Favourite motto: 'Enjoy even the little things, then you will always succeed'
Favourite place: Under her favorite tree
Family & Friends: She lives in the Filly kingdom with her lover, Duke Linard, and their three children, Countess Magica, Countess Melody and Dame Lori
Her little joys: She is happy about many little things: morning dew, ladybugs, pollen and even raindrops give her the greatest joy
She likes that: She is very fond of reading romance novels and her favorite flowers are diamond flowers