Shine
First appearance
Filly magazine
Species
Mermaid
Gender
Female
Title
Princess
Other names
Шайн
Home
Sunshine Tower

Relatives

Sibling/s
Vivian
One of the super-gloss ('Super glitter') edition Mermaid Fillies, though, unusually, her tail has two colours.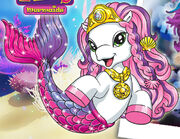 She's called 'another special mermaid' by the official description of the edition she was first appeared with.
Shine has a magical sun catcher wand, it is said to collect sunshine which Shine spreads to other mermaids who are her friends. The mermaid gave the wand to Glitterina after they became best friends.
The groups of mermaids Shine and Glitterina belong to, got along together just as well as these two fillys did.