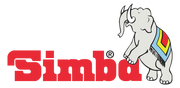 Note that this article features unproofed material, due to difficulty in finding reliable info.
Simba, known officially as the Simba Dickie Group, is a toy company established in Germany.
They held the German sales license for Filly for some years and placed their logo prominently in Filly toy commercials from this time, but got their license withdrawn by Dracco in January 2014, and Filly material that before were on Simba-Dickie's home page was removed.
Due to this placement in toy advertising, Simba's reputation for store-brand horse toys for the German market, and at least one disproven story of Filly's early years being a knockoff of My Little Pony G3 molds, Simba is often believed to be the creators of Filly. However, Dracco are the creators instead.
Links