Snowball
Species
Barb horse
Gender
Male
Home
Denmark
First appearance
Unknown
Other names
Vločka

Boule de neige

Relatives
Snowball, from the Filly Beach Party toyline, originally came from a region in northern Africa, but headed over to Denmark when he was pretty young. When the winter snow falls, he can't stop himself from playing and running around with lots of energy.
The stats from the card's text:
Beauty: 100;
Speed: 200;
Intelligence: 400;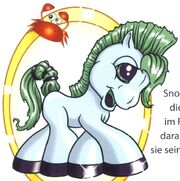 Other appearances
The filly is seen at one photo of package of one 'Filly Princess' playsets (they are being surrounded by 'Princess' characters). However, the colour of the figurine can be easily mistaken as one of Nemo.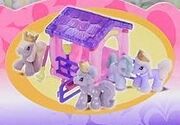 Community content is available under
CC-BY-SA
unless otherwise noted.