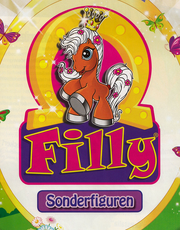 Sonderfiguren, in singular Sonderfigur, is considered to be German for "special figure". Sonder- is a term for special or rare things, but with figur carrying over many of its English possible meanings such as "shape", "figurine", and "character". The concept is most commonly seen in toys that were exclusive to and was included in various Filly magazines, be it all-new characters not acknowledged in their main lines, to existing major characters holding items in their hands, or in a few rare cases being both of these.
All-new characters
The Filly Sammelbands from 2012, 2013 and 2014 lists the following Fillys in the Filly Sonderfiguren section, which even has its own logo.
Several of these, including Varita, Flora and Shelia, are sisters of Princess Sparkle (the first two) and Princess Pearl, and are as such considered princesses, but have even fewer royal duties than those two.
Other characters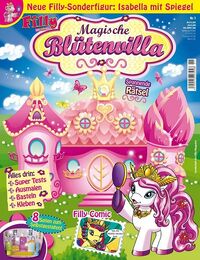 A few older characters have seen new toys where they're holding items. One example if this is one where Isabella is seen holding a mirror, giving some idea of how the Fillys are holding items with one hoof.