Valentin is one of the characters who was updated from the Filly Princess toy line with the Filly Royale toy line.
Prince Valentin is a true romantic. His favorite pastime is writing poetry. He tries so hard to speak in rhymes whenever possible as he thinks it is very romantic. He loves hanging out with Princess Heart. He thinks they make a wonderful pair!
Prince Valentin
Species
Princess
Gender
Male
Home
Castle of Belisama
First appearance
Filly Princess toy line
Title
Prince
Herceg
Książę
Princ
Príncipe
Prins
Prinz
Принц
Other names
Валентин

Relatives

Parent/s
Snow Queen
Sulta Admin
Sibling/s
Duke Linard
Princess Amira
Grandparents
Emperor Karus
Empress Diva
Other relatives
Cedric (cousin)
Countess Magica (niece)
Countess Melody (niece)
Lady Lori (niece)
Prince Valentin is a male Princess Filly. In contrast to many others in the Filly Kingdom who are princesses or princes by brand only, Valentin is pretty fond of daydreaming about love. As such, he is often found looking out of a window while daydreaming, writes poetry on most evenings and like everything that is related to love, such as spring and roses.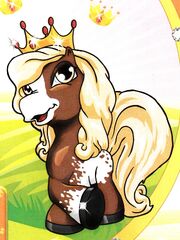 Community content is available under
CC-BY-SA
unless otherwise noted.