Zodia is the curious Princess of Skylia. Cassiopeia is the Queen at the Rainbow Castle the two of them live in, so Zodia still has some way to go.
Princess Zodia is the beautiful daughter of Queen Cassiopeia. One day, she goes to gather some crystals in the Moonlight region at the end of the rainbow bridge and meets one of the mysterious Filly Moonlights, Prince Zack. They quickly become friends!
Zodia was stated to appear in one of the two specials of this show but her design is changed and the reasons for this change are not known.
Her companion in this special is Aero, which belongs to Aries in the toy line.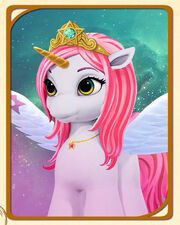 Gallery
Community content is available under
CC-BY-SA
unless otherwise noted.